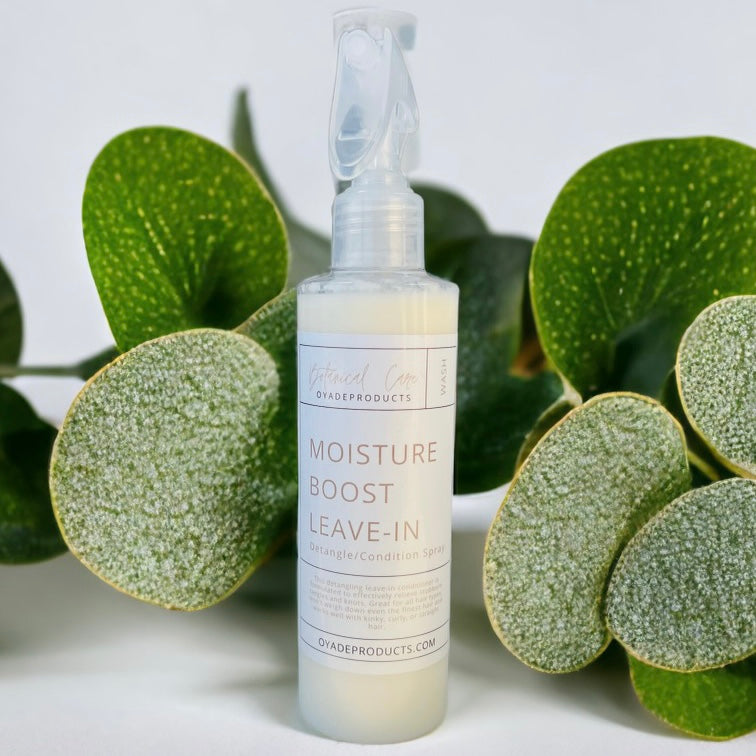 Moisture Boost Leave-In
Out of stock
Our Moisture Boost Leave-In is the ultimate solution for taming stubborn tangles and knots! This leave-in conditioner is specifically designed to cater to all hair types, from kinky to straight locks.
Infused with organic Aloe, Meadowfoam Seed Oil, and Pro-Vitamin B5, this innovative formula works tirelessly to provide your hair with the moisture it craves, leaving it soft, smooth, and manageable. Bid farewell to frizz and hello to effortlessly detangled locks!
Experience the power of our Moisture Boost Leave-In Detangle/Condition Spray today and step up your haircare game like never before. Order now and embrace smoother, healthier-looking hair like never before!
How To Use
Using our Moisture Boost Leave-In Spray is a breeze. On wash days, simply spray 6-8 pumps onto your hair, ensuring to extend your arm to maintain a reasonable distance. On co-wash days, 4-6 pumps will suffice for touch-ups. Remember to shake well before applying for optimal results.
For the best outcome, use this detangle and conditioning spray after washing and conditioning your hair. Apply it to wet hair, before blow-drying or styling, to effortlessly detangle and provide your hair with an extra boost of nourishment. Say goodbye to days of struggling with knots and hello to effortlessly beautiful hair!